To mark its return, KHP and its long-standing partner, the MotorSport Business Forum (MSBF), supported by payment solutions experts Rêv Worldwide, hosted the inaugural Texas Business Symposium in Austin, Texas on behalf of Red McCombs and Bobby Epstein, co-founders and investors of the Circuit of The Americas.
The full list of speakers  –  made up of Team Heads, Stakeholders, Series officials, Sponsors and Commercial Directors – were as follows:
Red McCombs, Founder of McCombs Partners and co-founder of Circuit of The Americas (Welcome Address)
Nick Fry – CEO Mercedes AMG Petronas F1 Team (Keynote Address)
Paul Hembery – Head of Pirelli Motorsport
Roy Sosa – Founder, Chairman and CEO of  Rêv Worldwide
Geoff McGrath – Managing Director of McLaren Applied Technologies
Mehul Kapadia, Vice President of Commercial Alliances and Sponsorships and Tata Communications.
Graeme Lowdon – President & Sporting Director at Marussia F1 Team
Pablo de Villota – Formula 1 Sponsorship Manager at Banco Santander
Bobby Epstein  Co-founder and Chairman at Circuit of The Americas
Here are excerpts from @rachelclarkef1's notes and @MSBForum's tweets from the event
Nick Fry: "Typically, teams spend $200m a year because there are so many people and because of the rate of development of technology. We start designing in July, design and develop till Christmas, then start manufacturing, ready to go at the end of January, test for a couple of months, start racing in Australia in March, race through to November in 20 locations.  For major corporations who want to advertise globally, there is nothing like it [F1]. Not dissimilar to Olympics or World Cup. It is a significant marketing opportunity".
"This leads to different opportunities all around the world. We are good at going into emerging economies early on and getting a high level of interest early. We have been adding new venues regularly. That number will continue to grow, substituting European events. Russia and Mexico show huge demand for races, amplifying the marketing benefit"
"As an example, Airtel (India) decided to sponsor one race for Mercedes. They did an advert, got 2.5million views of the video in 2 days. Another unique aspect is technology. The people who watch are interested in the technology behind the car. Tech is important and what we need to do is to combine it with entertainment. Technology spins off to other areas, not just automotive. There are about 45,000 people who work in associated areas; all highly paid, signficant tech jobs".
"The spin-offs are into defence, space, aerospace. The technology on cars, the composites, the electronics, the engine, the telemetry,  energy recovery etc is being used in lots of other areas of business. For example, train industry and fly-wheels, buses using hybrid tech. In our own case, the energy recovery system is going into the SLS Mercedes car. Next version is purely electric, all technology developed with help of F1 team. These are examples of direct spin-offs".
Challenges: Like most sports, one of the main problems is with costs. Money is difficult to raise. Teams at the back and middle of the grid are struggling. We need to bring down costs. The benefits of winning are huge, so people spend vast amounts of money to be successful, to get more TV and publicity. And the FIA is trying with things like DRS, which allow overtaking; this keeps the excitement with more passing (and keeps viewers engaged).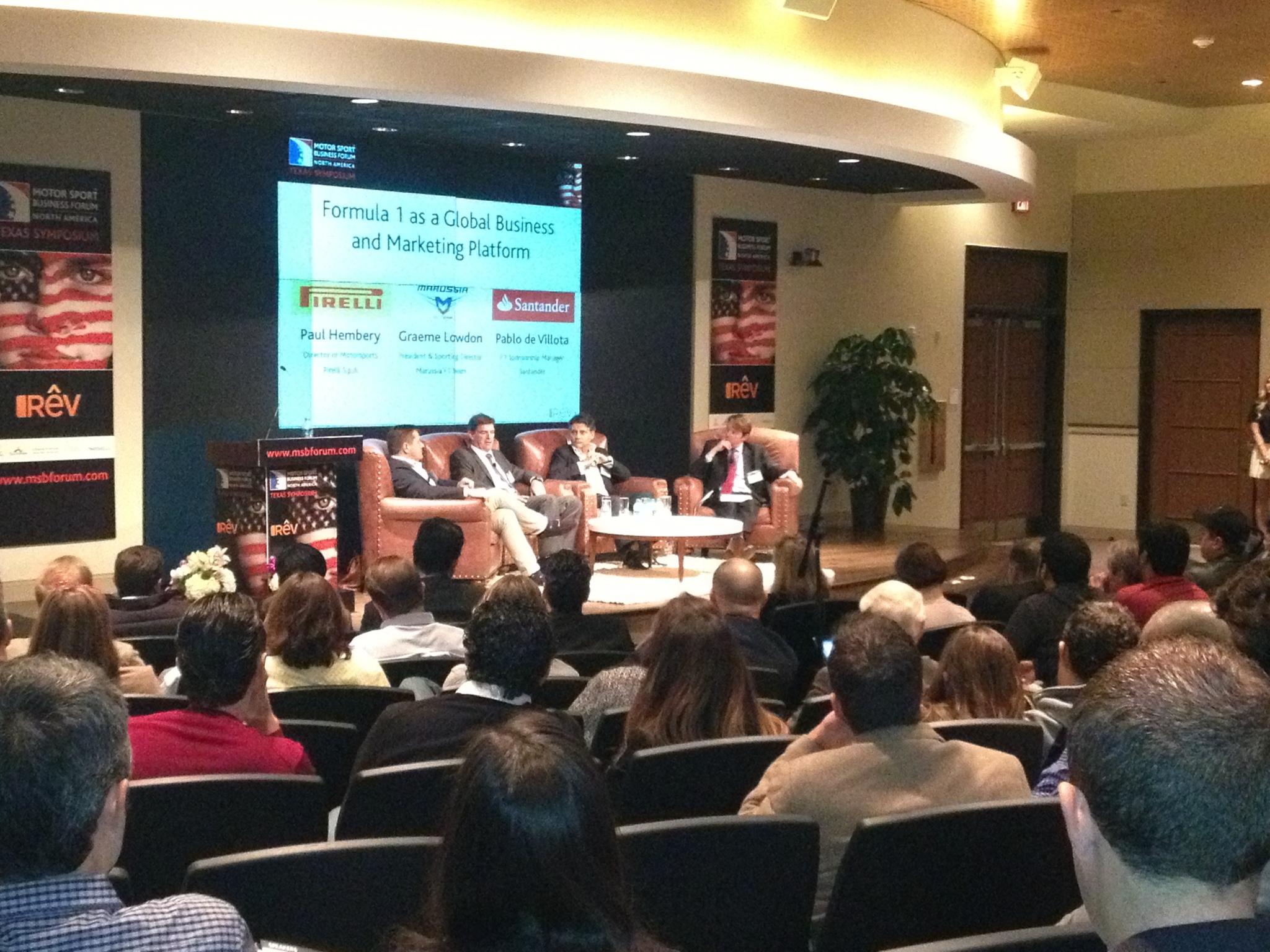 Question to Santander's Pablo de Villota: How does Santander manage Ferrari and McLaren sponsorships?
PdV: "From a sporting point of view, it is very interesting. McLaren vs Ferrari are big rivals.  Interesting how both teams work differently on track and management style – neither better than the other. Sponsorship relationship with McLaren started in 2007. Santander was new in the sponsorship arena and as part of a global re-branding process, we had to learn a lot. We had option of football or F1.  However, to sponsor football –  say in UK – if you sponsor Liverpool rather than Everton – animosity becomes an issue. We realised there was no better platform than F1, particularly as popular in key markets. Brazil, UK, Mexico and Spain, US, Germany, Poland".
"After the link-up with McLaren, we decided to approach Ferrari too: to give more flexibility with (branding) opportunities. You have so many opportunities to activate e.g. in US, F1 is not that popular, but Ferrari is aspirational and popular. We decided to maintain the link with McLaren due to UK being second biggest market, it was important to carry on with the relationship. When we decided to carry on rebranding, we went from 9% to 90% (market exposure?) just through McLaren in 3 years . These trends are easy to track, e.g. during the British Grand Prix with big promotions of McLaren, you can track how the trend increases due to F1″.
Metric: PdV: "This is an ongoing battle with every sponsor. With TV fragmentation, decline of Print media, my personal view is that it is not fair just to consider Return on Investment (ROI) on measurement from traditional media. You get so many (other) benefits. How do you measure the number of models that Shell has with Santander on or that Ferrari sell worldwide? Reputation is also important and the investment in educational scholarships helps. ROI is often about media impact, but we need to take in other measures too".
Can you measure difference between product and driver (i.e. is the driver more important in sponsorship terms?).
PdV: "Lewis Hamilton has been the best ambassador for Santander. The driver is important; he is the sporting hero, the people that fans are paying their tickets for. But the team is also important. As an example, before Alonso, F1 not very popular in Spain. Looking at research, Ferrari was as powerful as Alonso. When we had opportunity to associate Alonso-merchandise with Santander, we realised there is no value unless he is with Ferrari. However in the UK, with McLaren, in terms of merchandise opportunity with Lewis alone vs with the team, either did not get full impact on its own. What is important is the bond and Ferrari insist the team is first".
Pablo de Villota: "Lewis Hamilton has been the best ambassador for Santander".
Graeme Lowdon: It is a bit of a Catch-22 for F1 teams. It is the ultimate team game. There is no other sport that has teams of this size. But the drivers are the heroes. The teams work towards winning championships and you build the currency of driver, but the drivers may go to race for a rival. It is an interesting side-effect. But a fair price to pay for best team-sport in world.
Q: F1 has spent a lot of time marketing itself – So much said about F1 needs to do a better job of selling itself? Is there a unified approach?
GL: It may sound simple and it is. Listen, Listen, Listen and then do something about what we have heard. We have spent a huge amount of time talking to people, in the street, restaurants, at FotaForum. These events are so important. You (businesses) have to listen to me (team) but I want to hear from you as well about what is important in your business for F1. We have to satisfy a demand and the biggest mistake would be to assume we know what the demand is. We have learnt things, and it is fascinating to learn of different perspectives.
For MSBForum Press Release, click here
Addendum: Vodafone, a global telecoms company is believed to have increased its annual spending on McLaren from £40.5 million to an estimated £46.8 million.
According to a McLaren press release, Santander's Brand Awareness rose in the UK from 20% to 82% during the period of the sponsorship
Other F1 Business articles on the blog can be found here: Top 5 Brands in F1 on 2011